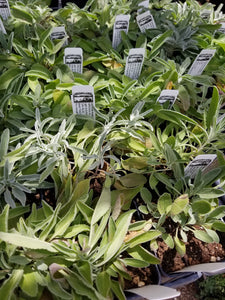 Common Name:
VERONICA INCANA
Bloom Season: spring / summer
Bloom Color: Purple to white
Water Needs: Little
Type: 
PERENNIAL
Ideal Sun Conditions: Full Sun / Part sun
Mature Width: 18"
Description:
Grey-White clump of foliage with spikes of blue flowers. Looks nice all year. Easy plant to grow. Likes some shade in heat of day. Its grey leaves give a nice contrasting color in the garden and it provides a long bloom season with occasional dead heading.