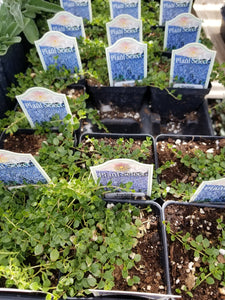 Common Name:
 Turkish 
Speedwell
Water Needs:
Little Water Moderate Water
Type: Perennial 
Ideal Sun Conditions:
Full Sun/Part sun
Description:
 May prefer afternoon shade, but it does well in full Sun. Tough ground cover if given enough time. it grows a  Little smaller than Veronica blue reflection. It makes a great filler plant for the front of the border or between rocks or stepping stones. It is a Spring bloomer. It can cover itself with deep blue blooms, then it makes a nice, Evergreen ground cover the rest of the year.