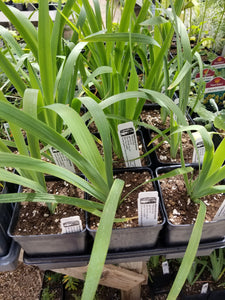 Common Name: FRECKLE FACE

Color: ORANGE/ YELLOW
Type: PERENNIAL
Water Needs: MODERATE
Ideal Sun Conditions: SUN / PS
Type: Perennial
Description:
Forms clumps of sword shaped leaves, similar to Iris
but they are longer and flow in the garden. Slowly
creep by rhizomes. Established clumps give best show.
Divide infrequently. 

Freckle Face has a mid summer bloom, then it develops interesting
"blackberry" seed heads that can be used in dry arrangements. Nice
looking from spring thru fall. Leaves are tall and stately.