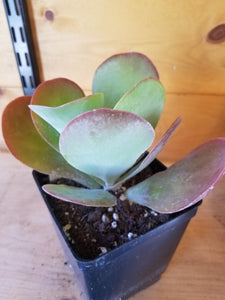 This succulent can do good outdoors with the container being overwintered indoors in a sunny window. The mother plant will not flower until it reaches maturity which typically takes 3-4 years. The plant will produce offsets at the base of the plant. Rosette leaves are stacked like pancakes, with leaf edges extended upward in order to minimize sun exposure to the leaf surface.

Common name: Flapjacks, Paddle plant, Dog tongue, Desert cabbage 
Light: Partial sun when put outside. Can take full direct sun in a windowsill inside.
Mature height: 12"
Mature width: 12"
Attributes:
When flower blooms it can be very fragrant
Flowers will be yellow with red-rimmed foliage