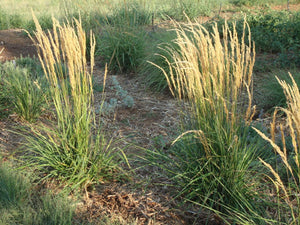 Common Name:
Karl Foerster Feather Reed Grass
Bloom Color:
Pinkish-Purple
Bloom Season:
Spring to Winter
Description:
3-4 'High 2-3'Wide Sterile grass- won't reseed, Does well in medium to wet soils. Clay is o.k. Do not allow to dry out.
Water Needs:
Moderate Water
Type: Perennial - Grass
Ideal Sun Conditions:
Full Sun
Garden Notes:
Cut clumps to ground in late winter, just before new growth. Divide every few years when center begins to die out. Cool season grass. Looks good earlier in spring/ summer than some ornamental grasses. It will go dormant in summer heat- Therefore: water heavier late winter through spring. Can reduce watering in summer.