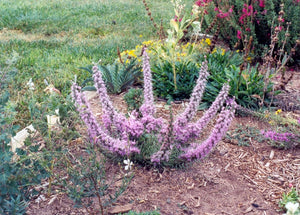 Common Name:
Spotted Gayfeather
Bloom Season:
Late Summer
Water Needs:
Little Water
Type: Perennial 
Ideal Sun Conditions:
Full Sun
Description:
Dense flower spikes. Has a taproot, does not transplant well once established. Short flower season- but plant has long visual appeal.
Garden Notes:
A Panhandle Native. Low care plant. Can grow very nicely in outer fringes of yard. it will reseed nicely to make additional plants.