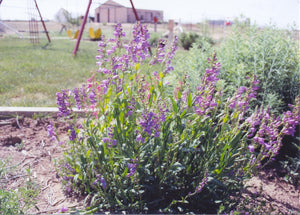 Common Name:
Rocky Mountain Penstemon
Bloom Season:
Early Summer
Water Needs:
Little Water
Type: Perennial 
Ideal Sun Conditions:
Full Sun Part-Shade
Description:
Hummingbirds. Smooth bright green leaves. Easily grown, spreads some by stolons. Month long bloom.
Garden Notes:
One of the hardier Penstemons. Its bloom season is fairly short but showy. It has nice deep green foliage that stays attractive all year. Highly recommended.